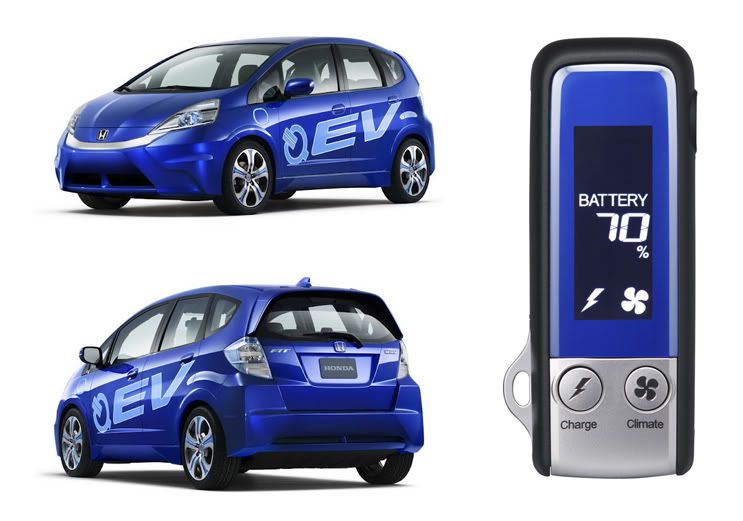 By Martin Leggett
Say hello to the new Honda Fit EV, the Japanese car-maker's fashionably late arrival to the electric car party, which is to make its Californian and Oregon debut this summer. Cleverly squeezing a high-torque, amp squealing drive-train into the tidy and familiar form of the Honda Fit, the Fit EV could be a real contender for the mainstream. But is Honda hanging back a little too cautiously, to ensure the Fit EV gets due notice on the dance-floor?
Second bite of the cherry
The Fit is Honda's long stay sub-compact model, piling up 350,000 sales since 2006 in the US, earning points for its stylish slant to fuel-efficient motoring. Now it is getting a second bite of the cherry, kitted out with a 92-kW high-density coaxial electric motor, and a 20-kWh air-cooled lithium battery pack. Hook the two together, and owners will feel 189 lb-ft of amp-powered torque driving through its front wheels.
That instant torque is available even at higher speeds, where other electric motors can flag, providing a smooth pull to the top-speed of 90 mph. Sweet as those numbers are, of course, EV figure-spotters have to look beyond nippy responsiveness under the hood. What they want to know is how far, and how 'fast', the battery is. After all, range anxiety is probably the biggest drag for those looking to shell out on an EV.
Fast to charge, fast to drain?
Here the Fit EV is not quite so nippy. Honda has penciled in the Fit's range as 123 miles, but that's based on a cheerfully optimistic driving scenario – the EPA peg that back to 76 miles for real-world driving. Not enough to quell fretting for longer-commute drivers, then. But sub-compacts like the Fit excel in the urban scene, where short hops are the norm; so a sub-100 mile range may not be such an issue for the Fit's intended audience.
The Toyota-plated SCiB battery is better rated for charge performance, though. It can be charged to 80% capacity within fifteen minutes with an 80-amp DC charger (and three-hours for a full top-up). That's twice as fast as a typical Li-ion battery. The SciB has also been shown to hold its charge through up to 4,000 cycles. And because the battery is slung underneath, it doesn't eat into the much-valued luggage space of the Fit, unlike with some other EV models.
Set systems to 'sport'
The balance between performance and range can be tweaked by switching the Fit EV between econ, normal and sport modes. In econ, the range is thrown out by another 17% compared to the normal mode. Flip to sport, and you get the equivalence of a 2.0 liter gas-powered engine under the hood – sans emissions of course.
All told, the Honda Fit EV offers a stable, rather than a stellar, platform for car-buyers leaning towards electric. But will the Fit EV help to stretch that market envelope wider itself, thanks to the Fit's strong established presence? After all, while the Nissan Leaf and Chevy Volt were the flashy early birds for keen-to-be-clean drivers, Honda's Fit EV comes to EV motorists with a different appeal – familiarity.
Too much toe-dipping from Honda?
That may be just what the market needs, helping reach beyond the early adopters – who revel in being seen to be green – to the cautious majority, who value solid-as-rock dependability over glitz. Such a case could be made, if it weren't for Honda weighing down the Fit EV with two marketing millstones – low availability and a high price tag.
Initially limited to just 1,100 units, the Fit EV is being offered to customers, in Californian and Oregon, on a screened-request basis only. 2013 will see channels opened out to six selected East Coast markets.
This tentative toe-tipping stands at odds to the possible mass appeal of Honda's new EV. As for coast, while the lease-only price works out at just $399 per month, that's based on an all-in price of $36,625 – double the cost of its fossil-fueled predecessor.
This approach may need to change, if the Honda Fit EV is not to be left as an expensive wall-flower, sat at the back of the all-singing, all-dancing electric vehicle scene.
Martin is a freelance writer from the UK, who specializes in writing on the strategic impact of environmental issues. After a 10-year sojourn as an analyst at Brady plc –  a Cambridge-based provider of services to commodity investment banking professionals – Martin set himself up as self-employed writer at the beginning of 2010. Since then he has written for a number of environmental websites and companies, and has been one of the principle journalists for green news website, The Earth Times